Development Boards
The LPCXpresso target boards, jointly developed by NXP, Code Red, and Embedded Artists, include an integrated JTAG debugger, so there's no need for a separate JTAG debug probe. The target portion of the board can connect to expansion boards to provide a variety of interfaces and I/O devices. The on-board JTAG debugger provides a high-speed USB to JTAG/SWD interface to the IDE, and it can be connected to other debug targets such as a customer prototype. Users can also use the LPCXpresso IDE with the Red Probe JTAG adapter from Code Red.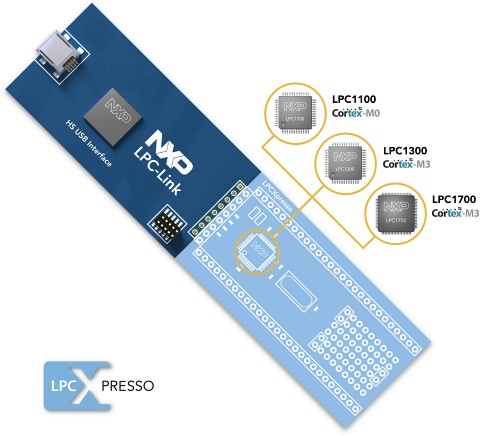 The LPCXpresso Development Board
LPC-Link
The JTAG/SWD debugger portion of an LPCXpresso board is called the LPC-Link™. The LPC-Link is equipped with a 10-pin JTAG header, and it seamlessly connects to a target via USB (the USB interface and other debug features are provided by NXP's ARM9 based LPC3154 MCU). Cutting the traces between the LPC-link and the target will make the LPC-Link a stand-alone JTAG debugger. This enables the LPCXpresso platform to be connected to an external target and used to develop for a wide variety of NXP's Cortex-M0, Cortex-M3, and ARM7/9 based applications.
Separated LPC-Link